Torenia fournieri, Wishbone Flower, Summer Pansy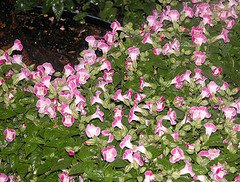 Torenia is an annual plant that blooms all summer long in part shade. There are several cultivars and hybrids, some with an upright bushy habit, and others are trailing. The flowers can be white, blue, pink or purple, often with a spot of yellow in the throat.
These pretty plants are great in flower beds and borders. They are also excellent in containers and hanging baskets. I like to combine the dark blue trailing variety with orange Impatiens to make a striking orange and blue hanging basket.
The plants grow about 8-12 inches around. They are not drought tolerant, and must be kept moist. They are not cold tolerant, but may be overwintered in a warm greenhouse.
These plants are very easy to propagate from cuttings. Cut the stems and plant them in potting soil. Keep evenly moist and roots will form quickly. You can also grow them from seed. I usually get a few volunteers in my garden that germinate from last year's seeds.


---
return from Torenia to June Garden Calendar

back to North Florida Garden Guide homepage