Osmanthus fragrans Tea olive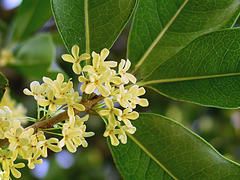 Osmanthus is a subtle charmer that you must have in the winter garden. While other plants have shed their leaves, and the garden is looking a bit dull and drab, tea olive begins to bloom. The flowers of tea olive are tiny and ivory-colored, not at all showy. But their intoxicating aroma is reminiscent of ripe apricots. The fragrant flowers are produced all winter long, from fall through spring.
Tea olive usually grows about 12 ft tall and 8 ft wide. It is a slow grower, but is very long lived and low maintenance. This evergreen should be used as an unclipped hedge. This is because it flowers on old wood, so removing older branches reduces flowering. Place it where the fragrance will be enjoyed; near the patio, for example. Tea olive grows well in full sun to partial shade on well drained soils in zones 7b-9.
Every southern gardener should find a space in their yard for this underutilized gem.


return from Osmanthus to Evergreen Plants

return to North Florida Garden Guide homepage