Magnolia grandiflora, Southern Magnolia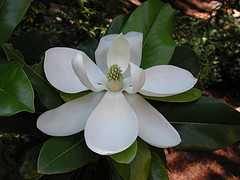 This beautiful southern native has large leathery evergreen leaves. It makes a terrific shade tree for natural cooling in the summer. It is also a good choice for a privacy screen.
From April to June the large white flowers emit a heavenly sweet lemony fragrance.
Mature trees can reach a height of 60 to 125 ft tall and a spread of 30 to 50 feet. They are moderately fast-growing, getting about 1.5 feet taller each year.
Magnolia trees live about 150 to 200 years.
They can be propagated by seed and cuttings.
If you have space, you should consider planting these stately trees to grace to your landscape with southern charm.


---
return from Magnolia grandiflora to Evergreen Plants

return to North Florida Garden Guide homepage